PURPOSE:
To support the beef industry through promotion, education and legislation and to be of assistance to the Monterey County Cattlemen's and the California Cattlemen's associations.
---
MCCW OFFICERS/BOARD MEMBERS
• President – Marianne Madson, m_madson7@yahoo.com
• V. President – Debra McAlahney Dodson sdcattle@aol.com
• Secretary – Morgan Demaree, morganbauhofer@gmail.com
• Treasurer – Shirley Rasmussen, shirleyrasmussenreg@peoplepc.com
• Member – Kelly Violini, kelly@montereycountyfair.com
• Member – Marti Gianolini, martini4077@aol.com
Date of Incorporation: December 5, 1962
---
NEWSLETTERS:
MCCW Newsletter Update January 2017
---
UPCOMING EVENTS: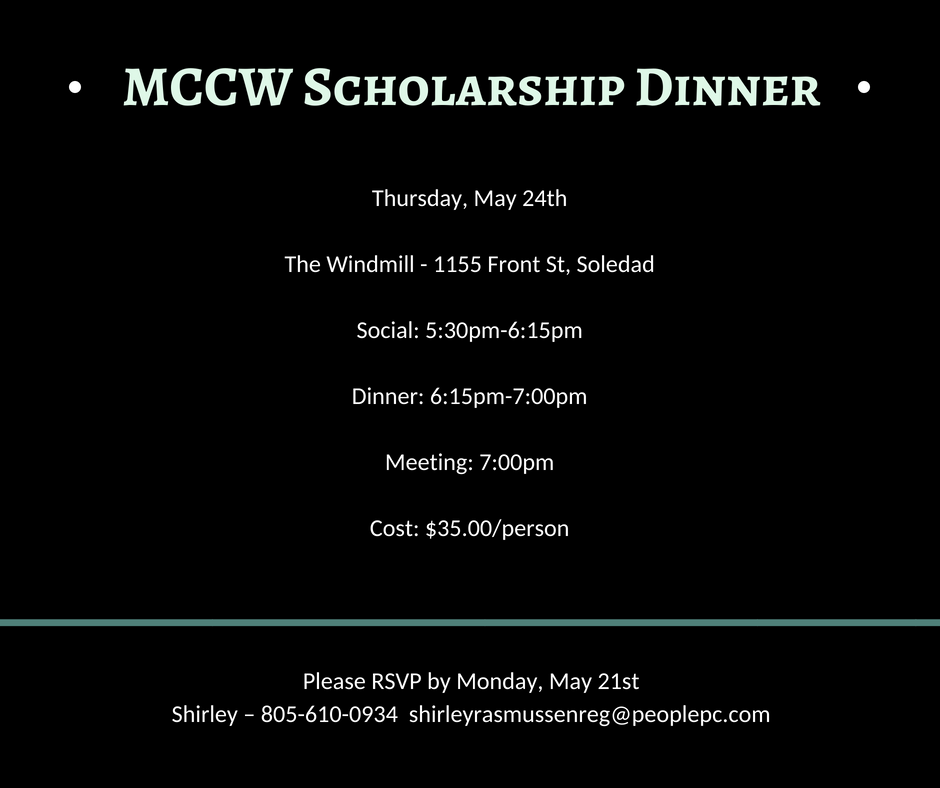 PLEASE RSVP WITH DINNER PREFERENCE
Rib Eye  –  Please show preference:  Rare, Medium, or Well Done drizzled with herb garlic butter
Salmon –  With Bay shrimp in garlic butter/white wine
Dinners  include:  salad, vegetables, dessert and choice of  coffee, ice tea, or soft drink   No host bar available
---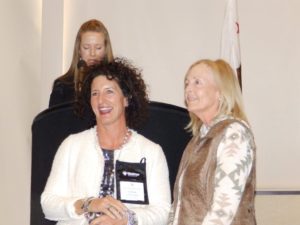 Congratulations to Celeste Settrini, 2016 Cattlewomen of the Year!
---

Pictured are l to r: Rachel Costa, Shirley Rasmussen, Bonnie Jean Grab,Marley Sollecito, Debra Dodson, Marianne Madson,Shelby Gourley
MEMBERSHIP LETTER:
Dear CattleWomen and Friends of the Beef Industry,
I'm not sure where this year went, but it is time again to renew our membership. The State Association needs our membership total before the convention in November. Please try to renew in the next 30 days so that we can meet their deadline. There is a dues statement included with this mailing and there is one on the website that we share with the Cattlemen. (www.montereycountycattlemen.org)
Here is a brief recap of our year:
Farm Days – Salinas, Monterey, King City
Fall Gathering – Scholarship Fundraiser @ Bernal Barn
Ranch Rodeo/Reverse Draw – Assist Cattlemen
Spring Cattlemen's Meeting – Celeste Settrini, CattleWoman of the Year
Salinas Valley Fair, – Miss Salinas Valley Fair Donation, Beef Award Sponsor, Table Display
Scholarships – $3,000 awarded to 3 recipients
Memorial Day Wreath Presentation – Dawn Girard, Robin Rist
California Rodeo – Miss California Rodeo donation, Contestant Bag donation
Monterey Fair – Beef Award Sponsor
Greenhand Initiation Dinner – Assist Cattlemen
Young Women in Ag Leadership Seminar, Cal Poly – Donation
Troop Support – Jerky/thank you letters sent
UC Extension Workshops – Low Stress Livestock Handling, Focus on the Beef Cow
This year we are planning a you tube video series for our FB page, featuring local chefs sharing seasonal beef recipes. This should be a fun beef promotion project! We will continue our work with Devi Rao, our UC Extension Livestock Specialist, on additional educational workshops. We would also like to update our logo in the next few months. As always, we welcome your advice, ideas and help in promoting beef, agriculture and our way of life. If you are interested in any of the above committees or would like to serve as a director, please contact me. Thank you for your continued support.
Marianne Madson, m_madson7@yahoo.com, (831)262-4702
DATES TO REMEMBER
FARM DAY SALINAS – Thursday. Oct. 26th California Rodeo Grounds
Volunteer @ montereycountyageducation.org
Candi Depauw @ (831) 905-3669
FALL GATHERING – Saturday, Nov. 4th The Barn @ Pine Valley Ranch, San Ardo
Please join us at our annual scholarship fundraiser. Food, Friends and
Dancing to Monte Mills and the Lucky Horsehoe Band.
SOCIAL 6-8 DANCING 8-11 $50/PERSON
CATTLEMEN/CATTLEWOMEN STATE CONVENTION – Nov. 29th-Dec. 2nd, Sparks, NV
Nugget Group Discount Code GCCA17 by Nov 8th
JOIN THE MONTEREY COUNTY CATTLEWOMEN
Please fill in the form, press submit, and mail your check to Shirley Rasmussen, 84502 White Road, Parkfield, CA, 93451.