PURPOSE:
To support the beef industry through promotion, education and legislation and to be of assistance to the Monterey County Cattlemen's and the California Cattlemen's associations.
---
MCCW OFFICERS/BOARD MEMBERS
• President – Marianne Madson, m_madson7@yahoo.com
• V. President – Debra McAlahney Dodson sdcattle@aol.com
• Secretary – Morgan Demaree, morganbauhofer@gmail.com
• Treasurer – Shirley Rasmussen, shirleyrasmussenreg@peoplepc.com
• Member – Kelly Violini, kelly@montereycountyfair.com
• Member – Marti Gianolini, martini4077@aol.com
Date of Incorporation: December 5, 1962
---
NEWSLETTERS:
MCCW Newsletter Update January 2017
---
UPCOMING EVENTS:
MCCW May Meeting 
Thursday, May 4, 2017
Lawrence's, King City
DOWNLOAD INFORMATION AND TICKET ORDER HERE
---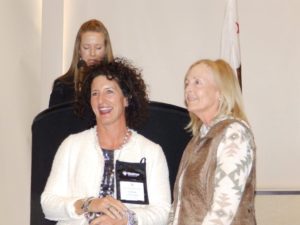 Congratulations to Celeste Settrini, 2016 Cattlewomen of the Year!
---
JOIN THE MONTEREY COUNTY CATTLEWOMEN
Please fill in the form, press submit, and mail your check to Shirley Rasmussen, 84502 White Road, Parkfield, CA, 93451.